Retain and convert visitors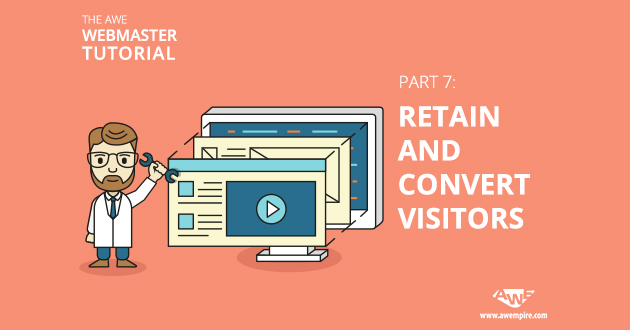 Retain and convert visitors
Basic elements of a website
Navigation: do's and don'ts
How to place call-to-action
Where to place banners
How to handle our affiliate links
Create a mobile friendly (responsive) version of the site
Smartest way to place (affiliate) links that people want to click on
1. Basic elements on a website
A proper, clear website has a few elements that give the visitor some things to help them understand and find their way around a website. A nice analogy for such elements would be street name signs, names on buildings, etc. They too help you understand where you are and how to move from one place to another.
Logo

The logo should be clearly visible and easy to recognize for visitors. The main function is recognition.

Navigation

Navigation is essential for visitors to easily go from one page to another. The navigation should work the same way on each and every page within the website.

Call-to-action

On most, if not all, websites you want users to perform some kind of action. The call-to-action should encourage users to click on a link, fill out a form, start a video or get involved in some way.

Contact information

In some situations, visitors want to contact the company or person behind a website and to make that possible, a page with contact information or a contact form helps a lot.

Search

Even if you have a fully optimized, very simple navigation, there will always be users that prefer to search for specific terms themselves. The search function should also be positioned so users can easily find it. Don't combine it with complex filter functionality before the result page is shown.
2. Navigation
As mentioned before, the navigation is an important element of the site. A well set up navigation has a few different functions:
Tells the visitor where he is in the site
Tells the visitor where he came from (this is typical a breadcrumb function)
Tells the visitor where he can go to from his current place
The navigation reflects the structure of the site and follows the hierarchy of the site. Since users mostly visit a website to complete a certain goal, like reading an article or finding a product, the navigation should help them to quickly achieve their goal which results in a satisfying user experience.
To make navigation clear and easily recognizable you can use several design elements, such as:
Buttons
Colors
Fonts
Images
Menus
Breadcrumbs
There are many things to take into consideration when working on your site's navigation.
Keep it simple
"Simplicity is the ultimate sophistication" – Leonardo Da Vinci.
Be consistent
Use the same navigation on all pages.
Be clear and specific
Use short texts for menu links and make sure they do what they say.
Use contrast
Don't blend navigational elements too much with other site elements or the background.
Make it accessible
Your navigation (and preferably the rest of your site) should work in all browsers, on all mobile devices, etc. Make it responsive.
This is definitely not a complete guide to create the best possible navigation, but it will help you go in the right direction.
3. Increase conversion with a call-to-action
You work hard to create a website and then when you get some traffic, you want those visitors to actually do something on your site. To encourage a user to do what you want them to do, you could add a so-called call-to-action (CTA) on your webpages.
The CTA is a link or a button that leads to some kind of action, like opening a registration page, starting a download, starting a video or a private chat or send users to another webpage (or website) where they can finish their goal.
A call-to-action should be very clear and, if possible, not cause any doubt. And a CTA must be encouraging so users are actually clicking on it or fill out a form. The copy used on a CTA has a huge impact on the conversion, so it pays off to really think about it. But so are the design, color, font, size and contrast of the CTA.
If there's anything you can give for free, you might consider adding that to the CTA as well. The copy around the CTA is just as important, since it works together with the CTA itself.
They are not always easy to write, create or visualize but there are several sites with great examples of calls to action.
4. Banners
Adding banners to a website can be another great way to monetize your traffic. We provide many banners in our promo tools section which you can add anywhere on your website.
But finding the best converting place, colors and types can be quite a challenge. To help you with that, we have a few suggestions that should guide you in the right direction.
First of all, you don't want to interfere with the main reason why people visit your page. For you that reason may be the banner click, but visitors initially came to your site for a different reason. Their attention will therefore be focused on completing their main goal. The purpose of the banner is to shift the user's focus to the banner so it catches their attention and they click on it.
To catch a visitor's eye, the banner should stand out from all other content available on the page and it should not be confused with other elements as well. Take the following tips in consideration when you're selecting or designing your banners.
Color and contrast
The banner should be clearly visible and stand out to attract the user's attention. If you have red background on your page, then for a normal, static banner you don't want to use red as well, because that would be confusing since it looks too much like normal content and not as a banner.
Limit the numbers
It might be very tempting to add many different banners, but that's not the way to go. A page that looks like a Christmas tree will be counterproductive and may scare users away. Rule of thumb is not to place more than three (3) banners on one page.
Top and Left
Banner studies have indicated that the best places for ads are generally at the top and on the left side of the page above the "fold", but this can vary per site. Changing the banner placements regularly to avoid banner blindness of returning visitors might also help.
Faces
People like to look at faces. Therefore, ads with faces tend to get a lot of attention which is what you want for your banner.
Finally, regularly changing the banners prevents returning visitors to get used to them too much. Try our new banners, like the Hypnoimage and the Hypnobanner, to learn which of them converts best. As soon as you see that the conversion of a banner decreases, it's time to replace it with another banner or change the look and feel of the banner.
5. Affiliate links
For our AWE Webmasters (you can sign up for free, affiliate links are very important to send their visitors to one of our sites and make money.
To optimize the effect of these affiliate links, it might be an idea to take a few things in consideration. In the article Our Best practices for affiliate links you will find that some suggestions have been described in more detail. Nevertheless, here are a few takeaways:
Don't stuff your page full with links. Too many links will make the page less clear and more difficult to navigate. And it could look spammy from Google's point of view which might be bad for you SEO efforts. It's best to keep the numbers of links 'reasonable', which is less than 100 on a page (including sidebar, footer, etc.) but better would be to limit it to about 50.
Use cloaking for your affiliate links.
Use rel="nofollow" for affiliate links. That way you retain your hard-earned link power.
Make sure your affiliate links have a different color than your normal text and also have a strong contrast compared to the background.
Avoid the classic "click here" as the link text. It does not make clear what happens when a user clicks on it. Learn why links should not say 'click here'.
Tag every individual link with a unique tracker so you can see which links perform well and which links need to be improved. In our promo tools you can add create trackers for every banner or link you want.
6. Usability optimization
Finally we give a few general usability optimization tips. We're not going into them very deeply, but touch the most important topics. For some topics we have already created in-depth articles, for others we might add articles in the future.
6.1. Think as the user
Many people think this is easy as they are users themselves, right? Wrong. You are not the average user of your site, since you already know how everything works.
That's why you should do a step back and think ask yourself a few questions, like:
Do I immediately know what the site is about, even if I have never seen it before?
Would my father, brother or neighbor know what to do?
Does every element on the page have a clear function or purpose?
6.2. Write great copy
We mentioned the importance of the copy (text) already several times in our blog posts, but we can never emphasize the importance enough. Unique, quality copy will attract visitors and turn one-time visitors into returning visitors.
Also, well-written copy will be more likely to be shared which will generate backlinks and that is good for SEO. Although it might appear impossible to write compelling content on an adult website, it really is not.
It may be difficult, but with some creativity and a healthy dose of perseverance, you can create interesting content. Maybe some of the following ideas will give you some inspiration.
Use humor
Use reviews of videos, cam girls
Use your own experiences in a blog
Use available data and write about that (requires doing some research)
Create infographics
Try to interview people from the adult business (can really be anyone, performers, camera men, studio's, photographers, etc.) and use that for your content
Try to write about the adult business from different angles
Write erotic stories (or have others write them for you!)
Bear in mind that copying content from other websites could get you a 'duplicate content' penalty from Google, meaning that your site will end up significantly lower in the Google search results. This means you will receive a lot less free, organic traffic. And once you're penalized, it requires a lot of work to clean up your site and to convince Google that you have learned from your mistakes and that it will not happen again.
6.3. Which devices?
Since many people use mobile devices to access the web these days, it's not enough that your site supports mobile, instead it should be mobile friendly.
In case you are not ready for mobile yet; now is the time to get it done and get increase the number of mobile conversions.
7. General vs niche
When you start a website, it is important to decide what your main focus will be. You can, of course, try to cover every subject that the adult business has to offer, but it will be very difficult to bring something original and unique. Therefore, like for mainstream websites, it is much more efficient if you focus on a specific niche and put all your efforts in making a great website about it.
We already have a comprehensive guide to help you find your own adult niche, feel free to consult it.
Any questions or comments? Tell us what you think in the Comments section below or send us a mail!