How to target your users as an affiliate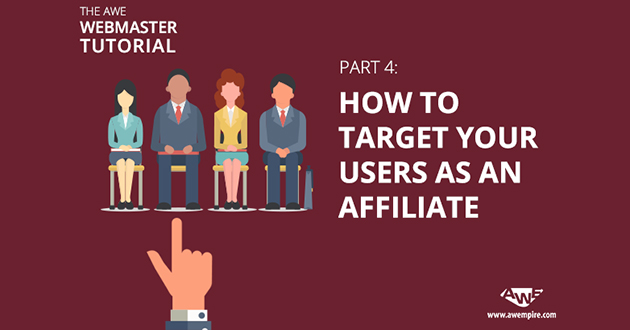 How to target your users as an affiliate
Targeting is essential in order to know who your real audience is, how you can reach them and make them lead towards your goals.
The previous chapter of the Webmaster Tutorial covered how you can create your own website. Now we are going to show you how to adjust your website to target the best possible audience for your product.
For the sake of achieving an optimal traffic and an ample income, you have to identify and target the audience specified for your product. In the process of doing this as precisely as possible, we will take a step-by-step approach, which you can also consider your personal To Do List that needs to be completed.
1. What do you expect from your audience?
Decision time again: it is up to you to tell what your desired action is from your target group.
Desired actions of your audience on your own site:
click through
sign up to your site
generate content on it
any other specific goals
Decide if it is enough that users clicked through to your site, or do you want them to be regular visitors, make them trust your site and engage them.
Desired actions of your audience on a site you promote:
sign up
credit purchase
and many more
The expected actions of your audience and future customers depend on your product and the type of your site.
Task Nr 1 on your To Do List:
Choose one primary goal around which you can build your site and user flow.
2. Who is your target audience?
What it essentially means: who would be interested in your content or services?
Getting to know your audience is a very useful move when you start your own business, be it a website or a grocery store - you need to know your customers' demands so that you can sell them what they actually want. Whenever you do a thorough research to define your target group in the most accurate way possible, you generally do a research for the following attributes:
Age
Gender
Internet experience
Budget / Income level
Mobile or desktop user
Social background
Nationality + language
Data and statistics
As we always go the extra mile to protect the confidentiality of our members, we do not tap into territories such as social background, income or other sensitive subjects from the above list. What we do know and can share with you for optimization purposes you will find below. These are staple pieces of information for you to know, whether you are selling your product to a younger or an older audience, if you need a mobile optimized website or your members are mostly desktop users and what language you can talk to them. When it comes to languages, you can even create your own niche by creating a site in a language that is rarely represented.
Age: The majority of our members is 25-44 years old (more than 50% total), 18-24 represent 17%, 45-64 represent a total of 26% on our sites.
Gender: More than 90% of our members are male.
Location: Our main markets are the US, the UK, and mostly Western European countries.
Languages: The most asked for and used languages are English, German and French. More popular languages include Italian, Dutch and Spanish.
Purchases broken down by device usage: Most of our members opt for buying credits when using a desktop device and a little less of this percentage is taken up by mobile traffic.
Where can you reach your target group?
This is a topic that we will be expanding later. Obviously there is a difference in how you communicate with people who use webcam services on a regular basis. Based on this differentiation of product knowledge, you will need to make a difference where to reach them.
People who are already using webcam services will look for reductions on credits, new models, new features on the site (especially if it's beneficial for them, for example longer, sexier teaser videos). They recognize promo tool advantages and are responsive to them.
Those who are not webcam site regulars, you should and emphasize the sensation of talking to a model live on cam. Explain why and how it differs from traditional adult media, why it provides more, introduce the advantages of live camming, add testimonials of longtime customers of Jasmin, emphasize the reliability (in terms of technical, confidential and monetary aspects as well).
Promo tools can also trigger their curiosity, especially those of high quality that don't look spammy to them. AWE offers very innovative and high quality promo tools such as the Slide Bar and the Live Feed, use them and do an A/B test from time to time to see which converts best.
Task Nr 2 on your To Do List:
Consider if the above data apply to you as it's easier if you can also relate to what you are about to sell. According to all the factors you know about your desired target audience, you will know how to reach and keep them too.
3. What does your audience expect from you?
This is probably the most important question you need to consider in this process. Business is a two-way street, you as a provider have expectations, but so does your audience. You need to make a research of what needs, challenges and frustrations your target group is challenged with, that you and your product can fulfill. Make a list of these expectations and select the most important ones for you and your business.
By looking into popular but never achieved goals and demands and adult-related searches (such as "Where can I find HD quality strap-on lesbian porn?", or "photos of transsexual couples in leather"), you can quickly filter what people are looking for but have trouble finding. If you serve them what they are hungry for, it is easy to see that it would quickly make them buy credits, become attached to your site and even promote it themselves. Don't be afraid of being highly specific with the selected niche. It can also turn out to be more successful than a generic adult site. The more users search for the given term and the less content they find online, the more traffic you can expect to arrive to your site – which then you can monetize using your Whitelabel / CamTubeLabel. For example ebony trans girls: MyEbonyDream, tattooed girls: InkCam, busty MILFs: BustyMILF, and so on. Read our related article on how you can pick the best adult niche for your business.
It's not only features or (micro) niches though that are in demand. Anything that gets the users make a purchase is a great amount of help for them and an asset for your own site. These include making the service accessible from localities that do not give consent to the use of the product, providing help with payment issues, eliminating user fears and trust issues with unknown products and services by providing all the necessary information for the visitors to help use the promoted site.
Get to know the product inside out (Jasmin.com) to try all services, aspects, features. Find out what can be the most attractive of these for the audience, what they are most willing to pay for or most likely to use on a daily basis. You can look into other providers' products as well, it will help you know a lot more about what you can do for your customers.
You can do a research of entirely general or, on the contrary, of very specific problems that customers can bump into when they would like to enjoy adult entertainment and help them reach their goals accordingly.
Task Nr 3 on your To Do List:
Use our product, find out how members approach it and what expectations they have. Think about how you can provide actual useful content for your users.
4. How do you make the users do what you desire of them?
You are obviously aware of the importance of first setting your goals and settle for an idea or business plan that will yield to profit because of its uniqueness. One key to growth and segmentation is to break down a creative idea further.
Another very important aspect is the unique element, your added value to the product that your audience will find nowhere else or not in the same quality as with you and this will make them stick with you. Make sure however that what you add (information for example) is correct. After all, you satisfy demands or solve issues with the help of your product's unparalleled and one-of-a-kind solution to their needs. The desires and demands of both webmasters and their users need to meet.
You have to find the proper link to connect these two worlds. As mentioned in the previous paragraph, take all user fears and barriers into consideration when it comes to a purchase.
Other valid user fears can stem from not knowing the products or the service well. You might communicate search functions, filters and categories in dedicated media to make it clear that your users will be satisfied with whatever they are looking for.
You also have to look for the element or the turning point that results in a purchase in the users' minds. Maybe it's a deduction from a standard price (coupon codes are perfect for this purpose), the chance of having to look at more models than one, or any other incentive that will trigger their inclination to buy.
Task Nr 4 on your To Do List:
Outline your very own and specific idea that you will explore as a business plan, based on the following:
the target group you have identified
their expectations of content and services
your expectations of what your audience will do for your business
how your idea, service, product help your target group
your very own added value, idea
what makes you own target group make a purchasing decision
We hope you have found this chapter useful! If you have any questions, do not hesitate to ask in the Comments section below. Next up, we are going to give you a guide of how to pick the commission program type that is most suitable for you.